---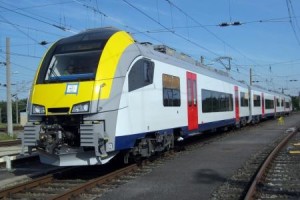 My current company car is a Volvo V40. It is ok, but I would really love to drive a Tesla Model S instead


Maybe one day…
My new company car is not a car, it is the train! I have been travelling from my place to Brussels for that last 15 years by car. On average, the trip is about 90 minutes in the morning and 70 in the evening. I usually negotiate that my customers pay for my parking or I include the parking price in my daily rate.
For my new mission at Proximus, I drove to the office the first 2 days. The traffic was bad and it took me more than the usual time to come and go. So at lunchtime on day 2, I crossed the street to find out more about the train prices & details (Proximus buildings are just in front of the North Station).
After doing the math I noticed that if everything goes well, it would take me 90 minutes in the morning & in the evening by train (including 25 to drive to the train station and 5 to wait for the train). The parking would be cheaper in Liège than in Brussels and the cost of the monthly rail pass is almost the same as the cost of the fuel I use (in first class).
So I decided to give it a try and I took a 1 month rail pass with a 1 month parking pass in Liège. Here are my first impressions:
First thing to notice, I have to leave home 10 to 15 minutes earlier than when I was travelling by car. It isn't a problem, but I have to speed up a bit in the morning
Less phoning. When I am in the train, I don't call as many people or as long as when I was alone in my car with nothing better to do.
I get to do things in the train: I can read books, I can update this blog (which I am doing for the moment), I can watch a movie or sleep…
The first class is not overcrowded, it can be crowded, but until now I have always found a place to sit.
The trains are not that often late (or very late). Less than 5 minutes delays happen quite a lot, but for me it is not a problem. I don't have to catch a connection, so 5 minutes is not an issue for me. In a bit more than 3 weeks, it happened only once that the train had more than 10 minutes delay (20 in fact).
It is not as flexible. If a colleague comes to me 10 minutes before I need to leave, it is a bit stressful. I have to options, tell him that I must leave, or catch the next train. When you travel by car, this is not a problem.
Overall, I can say that I am quite happy with this new experience. While my mission at Proximus goes on, I'll keep on travelling by train!